£60m Public to become Sandwell College sixth form next year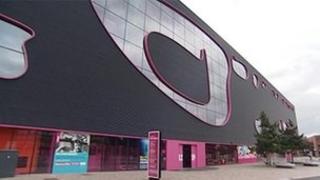 An arts centre that opened two years behind schedule and millions of pounds over budget is to become a sixth form college.
The Public, in Sandwell, is due to close at the end of November. The sixth form college could open a year later.
Sandwell Council said it could not afford the £30,000 a week needed to subsidise the venue.
A 25-year lease deal with Sandwell College means the "building's future has been secured", councillors said.
Up to 500 students will be based in the New Street building.
Council leader Darren Cooper said the authority was "working to relocate existing businesses and entertainment venues to nearby premises in West Bromwich town centre".
'Enormous demand'
He said the plans, which have been approved by the authority's ruling Labour group, secured "a viable, long-term future for the building".
"We now have an agreement in principle with the college and we are now finalising details," he said.
Scott Upton, vice principal of the college, said: "There is an enormous demand for the current sixth form, with six people applying for each place.
"This development will provide a major boost to the educational opportunities of young people in Sandwell."
Construction work on the building began in 1995, although a series of delays meant it did not open until 2008.
Sandwell Council took over management of the venue in 2009, when the Arts Council withdrew its £520,000 a year funding.