Birmingham knife amnesty agreed 'in principle' by PCC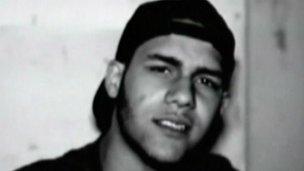 A knife amnesty is to be held in Birmingham following five fatal stabbings since March.
The Police and Crime Commissioner (PCC) for the West Midlands, Bob Jones, announced the plans after a meeting about the issue between the force and Birmingham City Council.
Justice Minister Jeremy Wright said knife crime was falling.
Derrick Campbell, a former government advisor on knife crime, said an amnesty would not make a difference.
Speaking on Thursday, PCC Mr Jones said: "We haven't agreed the final details, we have agreed in principle that it's going to happen.
"We need to work through how it's going to work, how it's going to be publicised, and that's part of the task that we do have ahead."
But Mr Campbell, who founded and chaired the group Birmingham Reducing Gang Violence, said he had been involved in three knife amnesties in the past.
"Unless they are targeted and time limited they aren't effective," he said.
"They do very little to deter people who are determined to carry a knife and there won't be a real drop in crime.
"All it does is provide an opportunity for people to get rid of old rusty blades. For something meaningful to happen it's about changing people's attitudes to carrying knives."
Imposing tougher custodial sentences would have a more positive impact on reducing knife crime, he added.
The PCC said he wanted the idea of a knife amnesty discussed by the 200 young people who will be at a youth summit he is hosting on 3 December.
"We want this to be something that works and resonates with young people to make sure that whatever the strategy is, it's meaningful," Mr Jones said.
Mr Jones praised the ideas on tackling knife crime that came from an "excellent debate" organised by BBC WM.
There have been five fatal stabbings in the city since March, including 15-year-old Hassan Mahmood in July and 16-year-old Christina Edkins, who was stabbed on a bus in March.
According to figures released by police, knife crime in Birmingham dropped by 25% between April 2011 and 2012.
In 2012-13, there were 1,615 knife-related incidents in the city, although police said over the past six years knife crime had fallen by 63% across the force area.
Justice Minister Jeremy Wright said: "Overall knife crime is falling and a higher proportion of people are going to prison for knife possession than in previous years.
"It's encouraging that cautions have fallen and those who have previously been caught carrying a knife are twice as likely to go to prison."
Related Internet Links
The BBC is not responsible for the content of external sites.