Peaky Blinders commissioned for second series in 2014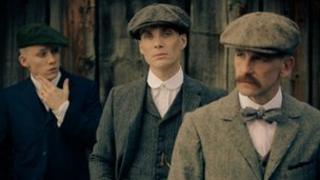 Peaky Blinders, BBC Two's between-the-wars drama, is to return for a second series in 2014.
The show, which takes its name from the gang's habit of wearing flat caps with razor blades hidden in the peaks, is set in post World War I Birmingham.
Its first series drew audiences of around 2.4 million, the BBC press office said.
Creator Steven Knight said it was a story of "extraordinary times" told in an "extraordinary way".
A second six-part series, which will start filming early next year, will see the Shelby family expand their empire to the north and south while maintaining a stronghold in their Birmingham heartland.
Mr Knight said: "I am so pleased we will be able to continue to tell this story of a working class family living through extraordinary times in an extraordinary way.
"The Peaky Blinders will march on to many surprising places and fight astonishing battles as the 1920s begin to roar."
BBC Two controller Janice Hadlow said the show was "utterly compelling" and was delighted with the prospect of its return.