West Midlands PCC Bob Jones criticises role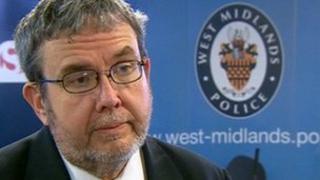 West Midlands Police and Crime Commissioner Bob Jones has criticised the posts, saying they have done nothing for police accountability.
The comments come a year on since the directly elected PCCs took up their jobs across England and Wales.
He said £100m had been "spent so far on making police accountability less effective".
In a statement, Police Minister Damian Green said Mr Jones's claims had "no basis in fact".
In a style similar to a school report, Mr Jones - responsible for the second largest force in the country - gave the model an overall four out of 10.
The PCCs were elected for the first time last year, replacing police authorities.
However, fewer than 15% of voters turned out for the elections.
Representing Labour, Mr Jones said he had originally chosen to stand as he felt police accountability was "crucial", despite considering the PCC model as "extremely risky".
'Record low turnout'
"There is clearly a limit on how much can be achieved and as someone who has been involved locally and nationally for almost 30 years, I believe I can offer an objective assessment as to how the model compares," he said.
"With a record low turnout at the election, record levels of hostile publicity, record numbers of investigations into PCCs and clashes between chief constables and PCCs etc, there is not much evidence that PCCs have led to more confidence in policing or the governance of policing."
He gave the PCC model two out of 10 for its impact on public confidence in the police and three out of 10 for its effectiveness in cutting crime.
In his first anniversary report, Mr Jones also criticised some of his fellow PCCs, saying they had introduced "gimmicks" and budgets that seemed unsustainable in the long term.
Responding to Mr Jones's comments, Mr Green said: "The real picture shows that crime has fallen by more than 10% under this government and for the first time, people have a proper say in local policing.
"Across the country, police and crime commissioners are driving reform and holding their forces to account. And it's the public who'll decide how well they've performed - at the ballot box."
PCCs are expected to hold their forces to account, set priorities for local policing and, alongside the chief constable, set the budget.