Rare Sumatran tiger winched into Dudley Zoo enclosure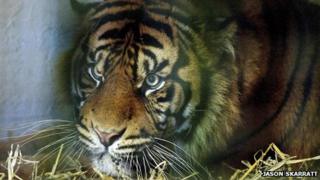 A rare Sumatran tiger has been lifted by crane into his new home at Dudley Zoo.
Twenty-month-old Joao was brought to the zoo, listed as an endangered heritage site, by lorry and ferry from Krefeld Zoo in Germany.
Using a crane eliminated the need to anaesthetise him, the West Midlands zoo said.
His keepers hope he will mate with 21-month-old Daseep, who arrived at the zoo last year and has never had cubs.
'Get him settled'
The lorry containing Joao - and two other tigers destined for a zoo in Wales - reversed up to the big cat enclosure before staff carried his cage out on to bales of straw and the crane winched him into his new home.
He was released into a secure, solitary cage inside the enclosure to allow him to adjust to his new surroundings, the zoo said.
Peter Suddock, from the zoo, said: "The big cat enclosure is a tricky one to negotiate and we used a crane to manoeuvre the tiger into the building.
"Not only does this make the transfer easier, but it also eliminates the need to anaesthetise Joao and means we can introduce him to the internal dens immediately and get him settled.
"It sounds a difficult move but it's something we've done since the zoo opened in 1937 and, although it looks complicated, it's fairly straightforward and ensures Joao is in his new home and set to meet Daseep as soon as possible. "
Once he has settled in he will be introduced to Daseep and then able to be seen by the public.
Zoo registrar Dr David Beeston said since Daseep arrived from Wuppertal Zoo, in Germany, keepers have been trying to find her a suitable mate.
He said: "We hope that these genetically important animals will soon breed and boost the numbers in the important European breeding population for this highly endangered species.
"There are now more tiger rugs in the world than tigers in the wild and with habitat destruction and hunting for body parts for use in medicines showing no signs of slowing, the captive population provides an important safety net against extinction."
In 2010, the zoo was added to the list of endangered heritage sites by World Monument Fund Britain.