Air Blue suspends Birmingham to Pakistan flights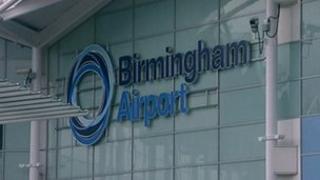 Flights between Birmingham and Pakistan have been suspended by operator Air Blue after just over two months.
The twice-weekly service started at the end of September, but was later cut back to just one flight a week.
Air Blue said it had now been forced to stop flights due to its expansion into Saudi Arabia and a lack of aircraft.
Birmingham Airport said it was disappointed by the decision but had been assured the services would be reinstated in the spring of next year.
In a statement the airport said: "Since commencing services at the end of September this year, Air Blue's operation has been very successful, carrying more than 4,500 passengers and reaching 100% load factors on many flights into Birmingham.
"We reiterate that the decision by Air Blue was driven purely by aircraft availability issues, not passenger demand."
It said that despite the cutbacks, four direct flights would continue to operate to Pakistan with others offering a range of connections.
Air Blue said services from Birmingham would be suspended from 1 December although flights from Manchester would continue as normal.
It described the move as a "difficult decision" and said Birmingham passengers would be offered a full refund on tickets.