Birmingham New Street station revamp's next stage begins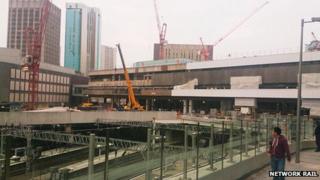 Work has begun on the east side of New Street station in Birmingham, in the next stage of its £650m revamp.
The original 1960s concrete facade is being removed in large sections.
The exterior cladding of the station will be updated from pebbledash to stainless steel.
As well as aesthetic remodelling, the project is designed to deliver better pedestrian connections across the city and new public space.
A 35m (114ft) high atrium made of glass and steel will cover an area of 3,300 sq m (3,947 sq yds), and the station will be lit by natural light for the first time in more than 40 years.
Chris Montgomery, Network Rail project director, said: "Our work outside New Street station will contribute towards the creation of a world-class transport hub for Birmingham that's fit for the 21st century.
"The stainless steel façade will completely transform the tired, old exterior into a stunning modern building that is already taking shape on the north side of the station, adding to the city's growing reputation for good design.
"We are delivering a station that Birmingham can be proud of."
Building began in 2010, when the first platform was refurbished, and the exterior work started in 2011.
April 2013 saw the most significant milestone so far, when half of the new concourse opened.
The station is scheduled to open fully in 2015, and will be three-and-a-half times bigger than the one it replaces.