Shrek wedding for Dudley couple raises £2,000 for charity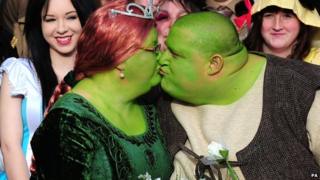 A couple who had a wedding inspired by the film Shrek say they have raised nearly £2,000 for cancer charities.
Amanda and Nathan Gibbs, from Kingswinford in Dudley, painted themselves green for the ceremony at Priory Hall on Saturday.
Guests also dressed up as fairytale characters, including the Gingerbread Man, Mickey Mouse and Jack Sparrow from Pirates Of The Caribbean.
Instead of gifts, the couple asked people to donate money to charity.
Mr Gibbs, 39, said he had lost several friends to cancer and his sister Donna was diagnosed with breast cancer earlier this year.
"We wanted to do something to raise awareness of cancer and to encourage more people to go and get checked out," he said.
"Thankfully Donna's cancer was diagnosed very early and she was treated quickly."
The idea for the ceremony came from a "standing joke" between the couple, he said.
"All our friends started getting married and I said 'When we do it we'll have a fairytale wedding. I'll be Shrek and you can be Princess Fiona'."
He described the day as "superb" and said the green paint was "slowly" coming off.
"I am on to my third wash now," he said.
He added he was "shocked" at the publicity the wedding had attracted, saying it was "just a small do".
The couple plan to honeymoon in Herefordshire.