Oakwood Prison had seen recent disorder, documents show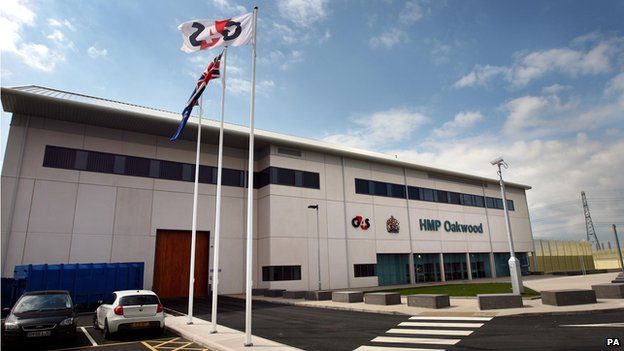 Earlier violent incidents took place at a privately-run prison where a serious disturbance happened on Sunday.
The serving of "cold, poor quality food" was behind the latest outbreak of trouble at Oakwood prison, near Wolverhampton, according to one inmate.
He said there was "real anger" towards staff at the prison. G4S said there was a "good atmosphere" at the site.
According to documents seen by the BBC, there were assaults and an outbreak of violence at the prison two months ago.
The nine-hour disturbance, which began at about 17:00 GMT on Sunday saw inmates allegedly barricade the entrance to the Cedar Wing.
G4S said about 15 to 20 prisoners threatened officers and caused damage to cells and prison property. The BBC was told up to 50 prisoners were involved.
A G4S spokesperson said: "The incident was brought under control just after 02:00 GMT without injury to any prison officers, although one prisoner has been treated for minor injuries."
Kerry Cooper, whose husband is an inmate at Oakwood, convicted for burglary, said the disturbance had resulted from treatment prisoners say they have received.`
"They are being locked up for no reason and having everything taken off them for no reason," she said.
"That's why they're all kicking off. They have all had enough."
Another woman, who was visiting her partner, said some prisoners had been on lockdown for much of Monday.
"They had no breakfast. Just tea from the day before," she said. "They are getting treated like animals, basically. It's very sad."
G4S said the reasons for the disruption were being investigated. A criminal investigation is also ongoing.
According to documents seen by the BBC, the incident was one of a number of violent episodes at Oakwood.
The documents, from the National Offender Management Service, said in November about 18 prisoners, most of whom were said to be drunk and armed with pool cues, threatened prison officers and lit small paper fires.
Sadiq Khan, shadow justice secretary, said: "More and more information is coming to light that suggests the Ministry of Justice and G4S are trying to cover up the true scale of the disturbances... on Sunday night.
"The government needs to come clean and admit what really happened and acknowledge that there are some very serious underlying problems at Oakwood."
On Monday, Chancellor George Osborne said "it was very early days" for the prison and "no conclusions" could be drawn about whether private companies should run prisons.
Jerry Petherick, managing director of G4S's custodial and detention services, said staff were doing a "superb job".
"I accept it's a new prison and, in common with other new prisons, be they public or private, there is a period where staff mature and get experience," he said.
He added he did not know how long it would take for the prison to "bed down".
He said the treatment of prisoners related to their behaviour.
"We operate standard incentives," he said. "Where prisoners come in and behave they get extra facilities and time out of cell.
"When they misbehave we properly challenge that behaviour and reduce that regime to the basic level."
Iqbal Singh Kang, a lawyer with Gurney Harden Solicitors which represents more than 100 inmates at the prison, told the BBC he fears "someone will die" at the prison, unless the government "takes urgent action".
Michael Spurr, chief executive officer of the National Offender Management Service, which is responsible for commissioning and delivering prison services, confirmed: "there will be a proper investigation into what led to the incident.
Related Internet Links
The BBC is not responsible for the content of external sites.