Birmingham City FC parent company resumes trading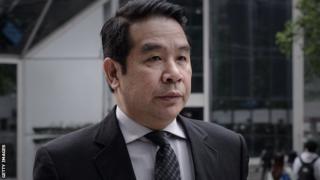 Birmingham City Football Club's parent company has resumed trading on the Hong Kong Stock Exchange - more than two years after the arrest of Carson Yeung.
Trading was suspended in June 2011 after he was arrested over money laundering allegations.
Yeung remains the majority shareholder but has resigned from the club's board.
The shares for Birmingham International Holdings Limited (BIHL) became available at 03:00 GMT, costing HKD 0.154 (£0.012).
The value later dropped by around a third to HKD 0.101 (£0.008).
The businessman is awaiting the verdict of a money laundering trial in Hong Kong, an offence he denies. The result is expected on 28 February.
Yeung, 53, was president of Birmingham City FC, director of Birmingham City plc and director and chairman of the club's parent company, Birmingham International Holdings Ltd (BIHL) until he announced his resignations on 4 February.