Peaky Blinders descends on Black Country Living Museum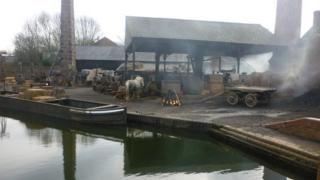 BBC drama Peaky Blinders - named after the 19th Century razor-wielding Birmingham gang - is marketed with brooding star Cillian Murphy telling his adversaries: "This is our city." But how much of it is actually filmed there?
It was almost like any other Wednesday for the public at the Black Country Living Museum in Dudley.
But this time the canal, the rolling mill and the anchor forge - all telling the story of the Industrial Revolution - were cordoned off for a TV show costing about £1m an episode.
Peaky Blinders' gang leader Thomas Shelby, or rather the show's star Cillian Murphy, was in town, along with about 100 others milling around - everyone from cast and crew to drivers, caterers and horsemen.
The museum is actually about 12 miles away from what it is portraying for TV - a 1920s scrap metals merchant in Small Heath in Birmingham called Charles Strong, named after a real person and a friend of the drama writer's grandfather.
But at least these three days of filming have been in the West Midlands. The other outdoor scenes took place over four months in Liverpool, in Manchester, at a secret location in the South and in rural areas with no pylons getting in the way of the cameras.
One of the show's extras was Kevin Lowe, a 54-year-old nail maker at the museum who had to teach two Peaky Blinders' actors how to be a blacksmith by "hitting a few horseshoes".
---
New Birmingham actors
Thousands went to casting auditions for Peaky Blinders at Minerva Works in Birmingham on 11 January
Harry Kirton, 15, of Northfield, was chosen to play Finn Shelby, the youngest brother of Tommy, Arthur, John and Ada Shelby
Director Colm McCarthy said: "[He's] a brilliant young fella, started day one bare knuckle boxing with us and he's a real find"
The director said another new key cast member with a Birmingham accent would also be in the Peaky gang, playing an 18-year-old son of poet Benjamin Zephaniah's character, Jeremiah Jesus
The show also hoped to use about six to eight others as regular non-speaking Peaky youngsters following the auditions
Mr McCarthy said: "We had kids coming along to the open auditions with photographs of their grandparents and their great-grandparents who were Peaky Blinders"
---
Putting the museum worker in front of the cameras was part of the show's efforts to get more local people on screen after criticism of the first series for some of the cast's "dodgy" West Midlands accents.
The show's writer and creator, Steven Knight, is a Birmingham City FC fan, with family from Small Heath, whose father was a blacksmith.
And to research the accent, Cillian Murphy has previously recorded Mr Knight's old school mates talking while out drinking and played the sound back "over and over and over again," the writer said.
But overall in series one, director Colm McCarthy conceded "there was a struggle with the accents the first time around".
He said in the first series "a lot of people were cast at the last minute" and were "having to play catch up" with the accents, but this time they have two new actors with Birmingham accents after auditions in the city.
Mr McCarthy said in March: "Because obviously there's a lot of returning characters this year... rather than being cast and locked into place two weeks before filming started, we knew that they were doing it before Christmas and they've been working with a coach since then."
Mr Knight stressed it was "a very difficult accent to get right, even harder than Geordie".
He stated: "I've said from the very beginning, the performance comes first.
"There's nothing worse than when you restrict an actor and say 'no, your vowels have got longer'... You've got to let the actor do their performance."
The second series, including film star Tom Hardy, begins in 1922 on the day the British Empire was "the biggest it ever was" when Birmingham was "the manufacturing heart" of it, according to the programme makers.
They revealed the drama now extends to London, Derby and Doncaster, but was still a predominantly Birmingham story.
Although Liverpool is actually the outdoor filming location for the Shelby family home in Watery Lane, Small Heath - thanks to Beatles drummer Ringo Starr.
He bought three streets to stop where he was born being knocked down, Mr Knight said.
The writer added it was "very tricky" to find uninhabited streets "accurate to the time" that were not about to be demolished - and following bombing in World War Two, the museum was the show's only Midlands filming location "because of Hitler really".
Producer Laurie Borg said: "I'd love to say quite honestly, look, we'd love to shoot the whole thing in Birmingham. I just don't believe that the locations exist any more.
"I think up in the North, whereby [there are] docks and... a lot of the mills, there's a lot of stuff sitting around and it's just easier quite honestly for us to find that material."
And while Charlie Strong's yard, where contraband is stored in the story, may be just one part of the series, for the Birmingham creator it is "the heart of it".
Mr Knight said: "When I was a kid... it was like going to Aladdin's cave times a thousand... gypsies, canal boat people, very ornate, lots of earrings, lot of gold, lots of really well-dressed men and women.
"I remember going there and everybody around the fire and it was like stepping into the 19th Century."