Final stage of Pebble Mill redevelopment approved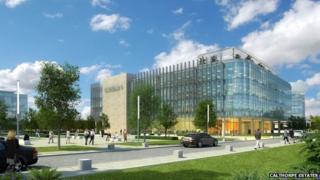 The final part of the redevelopment of Birmingham's Pebble Mill site has been given the go-ahead.
Calthorpe Estates has been granted planning permission for a 53,800 sq ft (5,000 sq m) healthcare facility on the last remaining plot at the site.
Ralph Minott, director of development for the Edgbaston-based company, said the approval was "the final piece of the jigsaw" for Pebble Mill.
The total cost of developing the former home of BBC Birmingham is about £200m.
The redeveloped 27-acre site will employ more than 1,000 people when it is completed, the developers said.
Last year building work started for a new dental hospital and school of dentistry, which are scheduled to open in autumn 2015.
A care home and a private hospital have already been approved for other parts of the site.