Azeem Akhtar jailed for life for Birmingham bus stabbing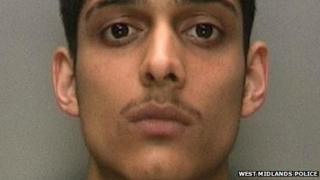 A man has been jailed for life for the murder of a teenage student who was stabbed in Birmingham last year.
Azeem Akhtar had pleaded guilty to killing 16-year-old Azim Azam, who was stabbed after a dispute on a bus in September.
The victim was found collapsed near a bus stop in the Moseley area of the city.
Akhtar, 18, of Kings Heath, was jailed for a minimum term of 16 years and three months.
Kerry Moreton, from West Midlands Crown Prosecution Service, said Azim had been due to start his first day at college on the day he was killed.
"He had the misfortune of catching the same bus as his killer," she said.
"The pair knew each other and an argument between the two young men ensued on a busy rush hour bus.
"They alighted and there was a brief physical altercation during which the defendant stabbed the victim once to the chest, fatally puncturing his heart," Ms Moreton said.
Witnesses had described how Akhtar had stabbed the student in the chest as he stepped off the bus.
Azim had initially run off after the attack, but after a short distance he slumped to the ground.
A doctor had tried to revive him as he lay on the pavement, but the teenager died later in hospital.
Det Supt Mark Payne of West Midlands Police said the killing was a "shocking waste of two young lives".
"Had Akhtar not been carrying a knife they may well have had a bit of a dust up and most likely walked away with a few cuts and bruises," he said.
In a statement, Azim's family said he had left for college "smiling and full of hope for his future".
"We still feel lost and heartbroken over the loss of Azim… a mother should never have to bury her son," they said.