Birmingham widow looks to future after frozen sperm legal victory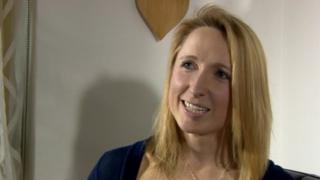 A Birmingham widow who won a High Court battle to prevent her dead husband's frozen sperm from being destroyed said she had "won back her future".
Beth Warren, 28, said her two-year legal fight had been about preserving her right to choose whether to conceive.
Mrs Warren said she hoped the court's decision would help other couples faced with the same situation.
She added she had not yet decided if she would have her husband's children.
'Left a choice'
Warren Brewer, who died from a brain tumour aged 32, made it clear his partner should be able to use his sperm in the event of his death.
Mrs Warren said the couple, who married in a hospice six weeks before he died in February 2012, had often spoken about the future.
She said: "This was something we spoke specifically about. He wanted to give me a choice and that's what I have fought for.
"It's given me back my future and that choice, but I also know that it will force changes in the law that will stop this happening in future and help other people."
Mrs Warren, who has qualified as a physiotherapist since her husband's death, said she wanted to concentrate on her career and on "the grieving process".
"If I am to be a single parent, I need to make sure I can look after that child as well, so that's the main point," she said.
"It's just being a normal young person and experiencing all life has to offer."
Mrs Warren said her right to conceive had never been in question but she needed more time to decide whether to have her husband's children.
"I will not feel bad; I will not feel like I am not honouring Warren by not having his children. It was that choice he left me," she said.
"He just wanted me to be happy and I know if it had happened the other way around I would want him to be happy."