University stages fake coach crash for students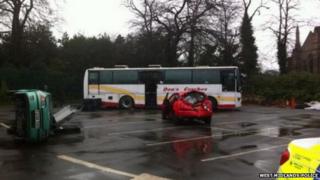 A university has staged a "coach crash" to help its students train to tackle major emergencies.
Birmingham City University simulated the "realistic coach crash with multiple casualties" for student nurses, paramedics and radiographers.
The "crash", between two cars and a coach, took place on the University's City South Campus.
The university said the crash was an "innovative and exciting learning experience".
In 2013, it simulated a crash between a car and a motorbike but said the coach crash, which was filmed by media students, was "bigger and better".