New £40m home for Birmingham Conservatoire music school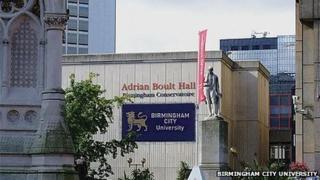 Plans for a new £40m home for the Birmingham Conservatoire music school have been unveiled.
Birmingham City University said the new centre would be built alongside Millennium Point on Jennens Road.
The Conservatoire will move in 2017 when its current base is demolished as part of the city council's £450m Paradise Circus redevelopment.
The new facility will have a concert hall, rehearsal rooms, lecture theatres and recording studios.
The university had originally objected to plans by the city council to knock down the 150-year-old music school in Fletchers Walk to build a four-star hotel and shops.
It withdrew its objection after it agreed a deal with the authority to help fund its new home.
Details of how much the deal is worth have not yet been revealed.
Vice-Chancellor Professor Cliff Allan said: "Over the past few months the University has been in close negotiation with Birmingham City Council to reach an appropriate agreement."
He said he was delighted that an agreement has been reached which would enable "Birmingham Conservatoire to relocate to this new, state-of-the-art building by summer 2017".
He said building work would start in the summer subject to agreement from the Secretary of State.