Wolverhampton Central Baths: Council reverses plans to close pool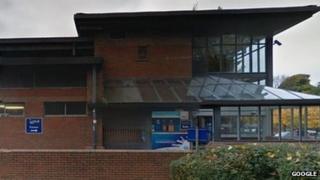 Wolverhampton's Central Baths are to be saved, after the city's council changed its mind over plans to close them.
The city council's cabinet decided that running the pool - plus two other leisure centres - "with a more commercial focus" could secure their futures.
The council is aiming to cut £123m over the next five years.
A petition to save the Central Baths has attracted more than 6,000 signatures.
Campaigner Carol Bailey, who organised the petition, said she felt "optimistic" about the future of the complex.
"I think the council were quite shocked by the response from the public regarding the proposals to close Central Baths," she said.
'A competitive industry'
"To be fair to them, they have listened to us and they have been working with the Amateur Swimming Association and Sport England on the options available.
"It's too early to say whether this definitely will secure the baths' future but I am optimistic."
Wolverhampton City Council had previously said it could not afford the pool's £316,000 a year running costs.
It said Central Baths, Bert Williams Leisure Centre, in Bilston, and Aldersley Leisure Village were currently subsidised by taxpayers to the tune of around £2 million a year.
However, the cabinet decided that by boosting the marketing of their facilities and increasing their appeal to the family market, they have the potential to pay for themselves.
Councillor Elias Mattu, cabinet member for leisure, said: "What is very clear is that the leisure centres need to be run as businesses with a commercial focus.
"Leisure is a competitive industry and we have to offer a product and an environment that attracts people at the right price."