Inspectors visit Birmingham 'Trojan Horse' schools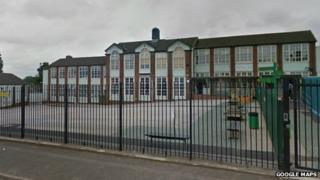 Ofsted inspectors have visited two schools in Birmingham involved in an investigation into an alleged plot by Muslim hard-liners to seize control.
The Department for Education and the city council are investigating claims 12 schools have been targeted in a bid to introduce more Islamic principles.
Park View Education Trust, which runs three schools, denies the claims.
Perry Barr MP Khalid Mahmood said Ofsted were visiting two of the trust's schools after a tip-off.
Ofsted confirmed inspectors had visited Nansen Primary and Golden Hillock.
'Serious bid'
In a statement, a spokesman said: "Ofsted can confirm that we are undertaking inspections of these two schools under Section 8 of the 2005 Education Act.
"This gives Ofsted the power to undertake an inspection where we have concerns about elements of a school or concerns have been raised with us."
Authorities have yet to determine whether an anonymous letter about the alleged takeover - referred to as Operation Trojan Horse - is genuine.
In it, a person suggested methods for replacing senior staff and governors at schools with people sympathetic to Islam.
Mr Mahmood said he was confident there had been a concerted effort to stage a take over.
"All the information I'm getting... is there has been a serious bid to take over most of the schools in the east and south of the city," he said.
'Firm action'
Birmingham City Council has said it is planning to increase the number of staff working on its investigation after a "significant number" of people came forward with fresh concerns.
In a letter to head teachers signed by council leader Sir Albert Bore, the authority said: "We owe parents and children clarity and confidence about the highest standards of governance and leadership that we expect, and that they deserve, in our city's schools."
The Department for Education is also investigating, and said officials had visited Park View, Nansen Primary and Golden Hillock schools.
"All schools are subject to a tough inspection framework and must meet the high standards and requirements rightly expected," it said.
"We will not hesitate to take firm action if these are not being met and where we become aware of issues of concern we will move quickly to resolve these.
"We are maintaining close contact with a number of parties, including the police and Birmingham City Council."