Wolverhampton Central Youth Theatre wins £10k grant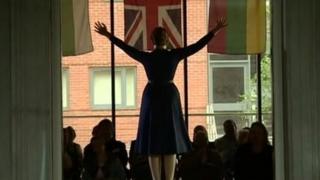 The future of an under-threat youth theatre group has been secured for the next 12 months thanks to a £10,000 grant.
Wolverhampton Central Youth Theatre was one of 13 organisations in the area facing cuts to subsidies.
The city council said the cuts would allow it to make £1.6m annual savings.
The theatre group's director Jane Ward MBE said the grant from the Local Education Partnership would give it "breathing space".
"It gives us a chance to build in some financial sustainability," she said.
"Otherwise, if this turns out to be one year only, then we'll be in this situation again."
Wolverhampton City Council is planning to make £123m cuts over the next five years with the loss of up top 2,000 jobs.
The youth theatre group, which started in 1983, had received an annual grant of £13,500 from the local authority, which ended this month.
The funding accounted for about 20% of its annual income, with the rest coming from lottery grants, sponsorship and fundraising.
Ms Ward said the group was planning to increase its fundraising, with a charity gala planned for the Wolverhampton Grand Theatre on 29 May, as well as several other events later in the year.
The group has about 100 member, aged between eight and 25.