More Birmingham 'Islam plot' schools inspected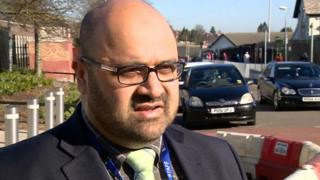 Fifteen schools in Birmingham are being inspected as a result of allegations of an "Islamic takeover plot", the Department for Education has said.
Anonymous claims that hard-line Muslims were trying to take over the running of some city schools were made in a letter sent to local authorities last year.
Ofsted inspectors have so far visited 12 schools in the city.
The Department for Education said it would take firm action where standards were not being met.
'Witch hunt'
On Thursday, the city council confirmed a freeze on the recruitment of school governors while it investigates the claims.
The authenticity of the so-called "Operation Trojan Horse" letter has not been established.
It was apparently written by someone in Birmingham to a contact in Bradford.
It was sent to the city council in 2013 and has led to a number of investigations. Part of the inquiry will focus on whether the plot is genuine or fake.
The letter makes various claims including that parents could be encouraged to turn against the leadership team if they are told the school is "corrupting their children with sex education, teaching about homosexuals, making their children pray Christian prayers and [carrying out] mixed swimming and sport".
It also outlines ways and means by which schools can be taken over.
But a governor at one of the schools implicated in the letter has repeatedly described the allegations as "a hoax".
Tahir Alam, from Park View Education Trust, has said the school was facing a "witch hunt" based on "all sorts of false allegations".
Ten MPs have asked for the council and DfE to jointly review any lessons to be learned following the investigations.
The DfE said the allegations were "very serious" and it was vital investigations were "carried out impartially" and said it would be inappropriate to comment further at this stage.