New Bishop of Dudley is welcomed to diocese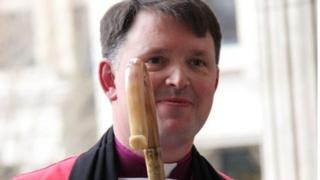 The new Bishop of Dudley has been officially welcomed to his new diocese, with services in Dudley and Worcester.
The Rt Revd Graham Usher replaces the Rt Revd David Walker who is now the Bishop of Manchester.
Bishop Usher will work across Worcestershire and Dudley. A service is planned for Worcester Cathedral, as well as Dudley.
Bishop Usher said he planned to cycle and walk the 32 miles between the two services as a "pilgrimage".
He is due to be rowed across the River Severn by ferry to arrive in Worcester for a service at 16:00 BST to be installed as a canon of the cathedral.
A service of welcome was held at the church of St Thomas and St Luke in Dudley on Saturday at 16:00.
'Immensely welcoming'
Bishop Usher, who was ordained in 1996, said: "I hope that by cycling and walking to Worcester I will be able to undertake my own pilgrimage.
"This means taking in the landscapes at a slower pace, feeling the earth underfoot and seeing the changing industries, listening to the different sounds, and praying for the different communities I pass through.
"Everyone I have already met has been immensely welcoming and I'm looking forward to getting to know the people of the Black Country and Worcestershire."
Bishop Usher was previously rector and lecturer of Hexham Abbey in the Diocese of Newcastle.