Ex-soldier pleads guilty over Bloxwich explosives haul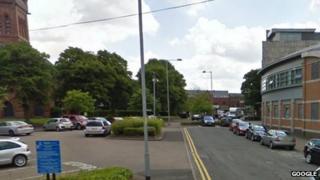 An ex-soldier has admitted illegally storing explosives, a shotgun and ammunition at home.
Joanne Morris, 48, was arrested after police in Bloxwich searched the Station Street property on 14 November.
Police said it was the largest single haul of its kind in the West Midlands in the past 10 years.
At the time of the arrest Joanne Morris was known as Paul Morris, but Wolverhampton Crown Court was told the ex-soldier no longer uses that name.
After the discovery at Morris's home, nearby properties were evacuated, along with Bloxwich police station, and they remained cordoned off for three days while searches were carried out.
The Ministry of Defence carried out a controlled explosion because some detonators were too fragile to move safely.
At Wolverhampton Crown Court, Morris pleaded guilty to four counts of unlawfully possessing ammunition, four counts of unlawful possession of an explosive substance, one count of making an explosive substance and one count of illegally possessing a shotgun.
Morris, a former nurse, was remanded for sentencing at the beginning of July.