Birmingham Dunlop workers 'in the dark' over their future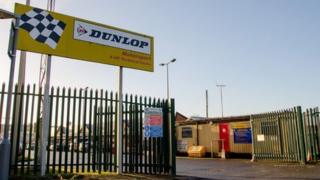 Staff at Dunlop's Birmingham factory feel they are being kept "in the dark" about their future, the BBC has been told.
About 240 workers face unemployment when the company closes its Castle Bromwich plant later in the year.
The firm announced in February it would leave the site on 1 September - ending 125 years of tyre-making in the city.
It said consultations with staff were ongoing and it was taking steps to help them find work.
'Panic setting in'
One worker, who wished to remain anonymous, told BBC WM the uncertainty had made it "terribly difficult".
"The communication between management and shop-floor staff has been terribly limited and people feel they've been left in the dark," he said.
He added plans for job workshops and help with CVs had been announced to assist staff to find work.
"But nothing's been confirmed and panic's really setting in," he said.
Dunlop's marketing manager James Bailey said a jobs fair would take place next Friday in a bid to introduce workers to other employers.
He confirmed employees would be helped with job applications.
"We have found ourselves in a position we didn't want to be in," he said.
"We made a long-term offer for to stay on our site for the next 10 years but our landlord didn't accept that offer.
"Our only alternative was to move production."
Erdington Labour MP Jack Dromey said the company's measures were "late in the day" but he welcomed "anything to help" staff.
"What they must do is say to their workforce 'the least we can do is repay our debt of loyalty to you and to ensure you don't end up on the dole'," he said.
"That's the least the workers deserve."
Mr Bailey said a "very unusual set of circumstances" had forced the company to leave Castle Bromwich but it would continue to invest in its Erdington and Wolverhampton sites.