Malala portrait sells at auction for $82,000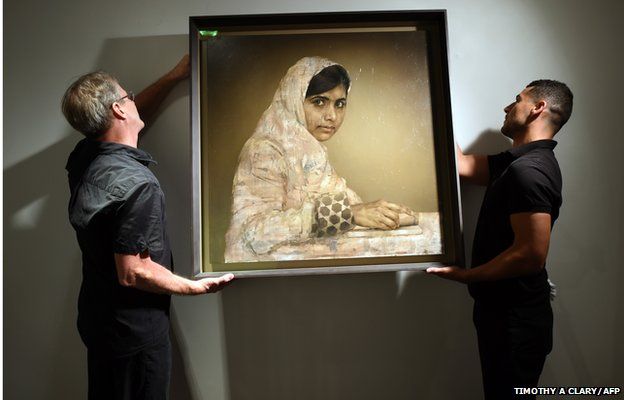 A portrait of Malala Yousafzai, who was shot by the Taliban for campaigning for girls' education, has sold for $82,000, just under £49,000.
The 17-year-old, who now lives and goes to school in Birmingham, was painted by artist Jonathan Yeo.
The picture was part of a series of portraits by the artist, who said his subjects were "leading cultural, media and political figures".
Proceeds from the New York sale will go to the Malala Fund charity.
The first grant provided by the Malala Fund went towards persuading families in her home area of the Swat Valley to keep their daughters in education.
In the wake of the kidnap of more than 200 girls in Nigeria, the charity said it would donate the auction proceeds to not-for-profit organisations in the country, with an aim to promote female education.
On her 16th birthday, Malala addressed the United Nations as part of her campaign to ensure free compulsory education for every child.
Yeo said his portrait depicted her doing homework to reflect the irony that "the simple everyday thing she's doing was what created the cataclysmic change in her life that nearly killed her".
The picture sold for a total of $102,500 which includes the buyer's premium.
Related Internet Links
The BBC is not responsible for the content of external sites.