Birmingham 'Trojan Horse' claims 'damaging', say pupils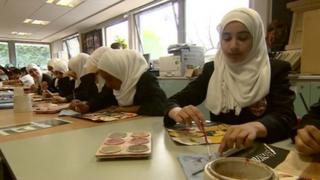 Pupils at a Birmingham school at the centre of the so-called "Trojan Horse" allegations have said their future job prospects could be affected by claims of Islamic extremism.
Park View School, in Alum Rock, is one of 25 schools being investigated over allegations about extremist practices.
The investigation arose following an anonymous letter sent to Birmingham City Council.
Pupils said they feared being "stereotyped" by the controversy.
One pupil, Tahira Mohammed, told BBC Midlands Today: "I was very proud of the school that we had done so well, being in such a deprived area, and all of a sudden, we got this bad publicity."
Another student, Hasan, said: "There is no extremism being taught here."
Park View is under investigation by the government, Birmingham City Council and Ofsted, following allegations concerning the segregation of girls and boys and of speakers at assemblies expressing support for Al-Qaeda.
It is one of 25 schools involved in the inquiry, which follows claims about a so-called "Trojan Horse" plot to take over the leadership of certain schools.
The council said it had received more than 200 reports in relation to the inquiry.
In February 2012 Park View was rated as "outstanding" by Ofsted, having previously been in special measures.
'Completely false image'
Assistant principal Lee Donaghy said he had "no idea" why the allegations had been made.
"Some of them [come from] disgruntled ex-members of staff," he said.
"When you are taking a school from one which has very low expectations of pupils to one which has incredibly high expectations of pupils, some people along the way are going to feel uncomfortable about that."
Tahir Alam, chair of governors, said the allegations "generated a completely false image of our school".
Birmingham City Council said the part of inquiry would examine whether the plot was genuine.
A Department for Education spokesman said officials were monitoring Park View.
Ofsted is due to publish a report on the school, following an inspection.