'Racists' blamed for arson attack on Birmingham community centre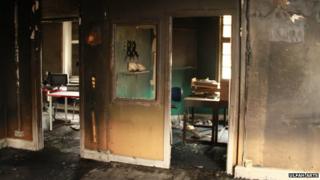 A community arts group that was targeted by arsonists has said it believes racists were responsible.
Ulfah Arts in Highgate Square, Birmingham, said its staff had been receiving "hate emails" for months.
West Midlands Fire Service said it suspected the blaze was started deliberately but the investigation was now in the hands of the police.
Police said the motive was unknown but it was aware of a malicious letter sent to the centre earlier this month.
'Act of violence'
Ulfah Arts said nobody was hurt in the fire, in the early hours of Tuesday but media equipment and 10 years of work had been lost.
Its chief executive, Prashant Singh, said: "This is an act of violence against all young people in this country who are coming together to make a difference, irrespective of race, language or colour."
He said the group was looking for a temporary office and would not let the fire stop its work.
One of the volunteers at Ulfah, Sarah Javid, said: "It saddens me to think that somebody is capable of such a thing but it has only made us stronger."
West Midlands Police said it was investigating the malicious letter sent to the group, as a hate crime.
Det Ch Insp Richard Agar said: "The motive for the blaze is unknown and although apparently unconnected, we will explore any links between the [letter and fire]."
He said officers were looking at CCTV footage from the local area and forensic tests were being carried out at the building.
Ulfah Arts describes itself as an organisation that reaches out to diverse community groups in Birmingham through radio, film and arts projects.
It offers media and arts training and has been involved in local TV and radio schemes.
The group also started a band made up of practising Muslim women, the Ulfah Collective, which has performed with Robin Gibb from the Bee Gees at Wembley Arena.