Dudley hospitals: Police investigate patient restraint claims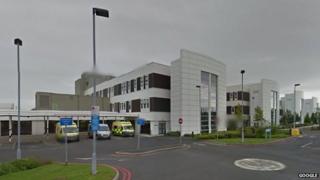 A police force has confirmed it is investigating claims of unlawful patient restraint at a hospital trust.
The allegations, concerning the Dudley Group of Hospitals NHS Foundation Trust, were made by two former staff members who have now lost their jobs.
John Marchant, the trust's former head of security, said patients were restrained for "weeks and weeks".
West Midlands Police said they were making inquiries. The Dudley Group said the investigation was "a precaution".
In January, the Department of Health described the allegations as "serious" and confirmed an investigation was under way.
'Bed blockers'
Mr Marchant, who worked for the trust between 2000 and 2012, said the restraint involved forcing patients to stay in their rooms and their beds "for days and sometimes weeks".
"You wouldn't do that to a prisoner," he said.
He said the number of cases had increased after 2010, when hospital staff began to claim patients were threatening violence and needed restraining.
"Normally it would be an elderly woman wandering around the ward," Mr Marchant said. "The word the media use for some of these people is 'bed blockers'."
In 2011, Mr Marchant said his team refused to restrain a 14-year-old girl who had been brought to the hospital by social services because they did not believe it to be lawful.
He claimed staff had put her in a room and held her there for two days.
A second member of staff David Ore, who worked at the trust from 2007-2014, backed up Mr Marchant's claims about the restraint of patients.
He said: "Holding someone to a bed or a chair was a frequent occurrence.
"I was unhappy, I was uneasy, I knew and believed it was wrong."
'No criminal offences'
Mr Ore said he asked the trust to write a new policy on restraint, but described the end result as a "fudge".
Det Ch Insp Jenny Skyrme said police received information about "a number of incidents" at Russells Hall Hospital, one of three sites run by the trust.
However, she said: "In May 2014, the complainants were informed no criminal offences had been committed.
"A further investigation continues in relation to two separate complaints made against staff at the hospital using unnecessary force."
Paula Clark, the trust's chief executive, said the cases raised by Mr Marchant and Mr Ore, whose allegations have been reported in the Daily Mail, had been "closed, as unfounded".
"Two more recent complaints of unnecessary force are being reviewed as a precaution," she said.