Birmingham canal murder: New court date set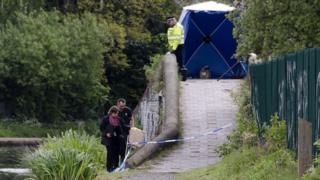 Two people accused of murdering a man who was found dead in a Birmingham canal will appear in court in August.
The body of Michael Spalding, 39, known as Spud, from Ladywood, was discovered by men working on the canal near Icknield Port Road on 12 May.
Lorenzo Joshua Simon, 33, and Michelle Bird, 34, both of Oxford Road, Smethwick, face a murder charges.
On Tuesday, Birmingham Crown Court was told the pair are expected to enter their pleas at a hearing on 29 August.
This story was amended on 27 May to remove incorrect information.