Dunlop factory closure 'day of shame' says Jack Dromey MP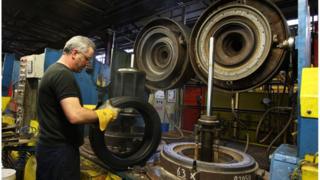 Manufacture of Dunlop tyres in Birmingham is ending after more than a century on what an MP has called a "day of shame" for the city.
Final shifts will end at 07:00 BST on Saturday as Dunlop's factory shuts down with the loss of 241 jobs.
Jack Dromey, Labour MP for Erdington, tweeted: "A day of shame as Goodyear Dunlop ends 125 years of Birmingham manufacturing... in Erdington."
Dunlop Motorsport said it had wanted to stay in the city.
'A sad day'
Mr Dromey wrote: "The Dunlop Motorsport workers can be proud of who they are, good men and women, loyal, long-serving."
He added they had been "betrayed" by the company, which is moving production to France and Germany.
James Bailey, marketing and communications director for Dunlop Motorsport, said it was a "sad day" for employees, some of whom had been at the company all their working lives.
"We wanted to keep our motorsport production in Birmingham," he said.
"We made a 10-year offer to stay on this site but unfortunately the landlord chose to sell it to a property development company.
"It's been a very difficult period. We have worked with our employees to give them support. We have a very dedicated, skilled workforce."
He said Birmingham City Council and the government had worked with the company to try to find an alternative site in the area but none had been suitable.
"This is a very complex factory and we would have had to build a whole new one," he said.
"We are moving in order to maintain continuity of supply."
He said Goodyear Dunlop would maintain its Wolverhampton factory and its head office in Erdington, which together employ 700 people.
"It is not the end of the company in the West Midlands," he said.