Trojan Horse fears in Birmingham 'raised in 2008'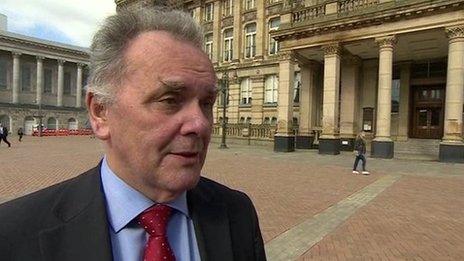 Fears hardline Muslims were trying to extend their influence in Birmingham schools were relayed to the city council as early as 2008, a former prospective governor has said.
Keith Townsend told the BBC the authority was made aware of the issue.
Ofsted is this week expected to release a series of reports on schools under the spotlight since the unsubstantiated "Trojan Horse" allegations emerged.
Council leader Sir Albert Bore said he first heard of claims in November.
The authority received a copy of a letter last year detailing a plan, known as "Operation Trojan Horse", for an Islamic group to take over the running of schools.
Supposedly written in Birmingham to someone in Bradford, the four-page document outlined methods to gain influence over schools with the aim of making them more sympathetic to the group's religious views.
Mr Townsend told BBC Radio 4's Today programme he had been invited to sit in on about 12 meetings held by governors at a Birmingham school in 2007, with the aim of joining the board.
He said: "The governing body was largely Muslim and they were working alongside the head and the leadership team in a normal manner.
"Then, two or three new governors were appointed and things started to change.
"Many demands were made that were simply impossible to meet and it began to appear like there was some sort of organised attempt to undermine the management of the school."
Sir Albert said he first found out about the alleged plot in the letter in November. He said he immediately passed it on to the police and council officers.
He said: "Birmingham City Council is working to restore the reputation of our schools and the confidence of parents in our schools."
The council added that retrospective documents were part of their investigation, but would not confirm Mr Townsend's claims.