Al-Hijrah School: Council 'blew budget on mobile classrooms' claim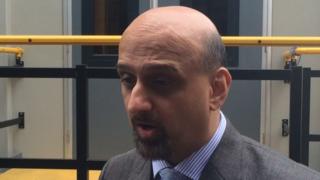 A former governor who has been banned from his child's school over claims about an £889,000 deficit says the local authority "mismanaged" the money.
Waseem Yaqub was chair of governors at Al-Hijrah School, in Bordesley Green, which is in special measures.
Birmingham City Council said Mr Yaqub was banned from the site after a new governing body was refused entry to the school and denied the claims.
But Mr Yaqub said the council spent the money on erecting mobile classrooms.
'Financial mismanagement'
Mr Yaqub attended the school earlier "as a parent" and said he did not recognise "threats of a ban".
He said after Al-Hijrah, a voluntary-aided foundation school, became an "all-through" school in 2012, accepting pupils aged 4-16, the council doubled its intake from 60 to 120.
The council then erected eight mobile classrooms at the school in order to teach the children, Mr Yaqub said, but failed to apply for planning permission.
When they did so, the classrooms had to be moved. The whole process, Mr Yaqub claims, cost "at least" £343,000
"They are blaming us and want to take over the school," he said. "But the expenditure is a result of the authority's financial mismanagement.
"They forced the school to take these Portakabins at an extortionate cost."
On Monday, the council said the school's deficit stood at "£400,000 and rising". On Wednesday, they said it was £889,000.
A spokesperson said £889,000 was "the current figure" that had "just come to light".
"Mr Yaqub is coming up with claim after claim," he added. "Al-Hijrah is responsible for its own budget."