Birmingham green waste worker 'suspended for media tip-off'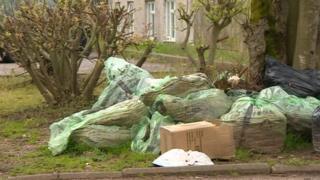 A Birmingham City Council worker was suspended for tipping off the media over unpopular garden waste charges, the GMB union has claimed.
A £35 annual fee for garden waste collection was introduced by the council in February, which led to some residents dumping waste on the streets.
The union said the suspension of recycling depot worker Paul Langley was "politically motivated".
The council confirmed he was suspended but did not comment on the reason.
GMB organiser Gillian Whittaker said: "It is absolutely disgusting that the local authority has decided to take action against a union representative who felt that the public needed to know what the authority was expecting of its employees.
"The council are looking for someone to blame over the fiasco within fleet and waste and they have targeted Mr Langley in order to make him a scapegoat."
In a statement, Birmingham City Council said: "A member of staff has been suspended without prejudice.
"As the related investigation is ongoing, it would be inappropriate to comment further at this stage."
The GMB said Mr Langley had worked for the city council for more than 20 years and worked as a union representative for six years.