Wolverhampton couple claim 999 delay in baby death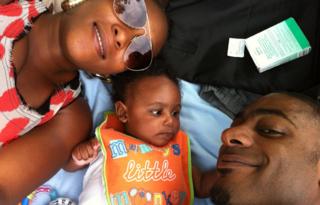 A six-month old boy died after 999 call staff wrongly classified his mother's emergency call, his parents have said.
Six-month-old Cainan Moore, from Wolverhampton, died in October 2012 after his brain was starved of oxygen.
An ambulance car took 10 minutes to reach Cainan, despite there being an ambulance just two minutes away, lawyers for his parents said.
Failures were outlined in an early West Midlands Ambulance Service report. The service is investigating further.
Parents Gemma and Darren Moore said it took 20 minutes getting Cainan to New Cross Hospital, after the 999 call, despite only living five minutes away.
An inquest showed he died of natural causes, but his parents claim the delays could have contributed to his death.
Staff shortages
"Cainan was our only son and the most precious thing to us in the world," Ms Moore said.
"What makes it all the more unbearable is Darren is an ex firefighter trained in giving CPR and despite being at work on the other side of the city, he may have got to us quicker than the ambulance service did."
In an initial report, carried out by the ambulance trust in the wake of Cainan's death, said the 999 call handler did not at first classify the call as the most urgent, despite Ms Moore saying her son was not breathing.
It meant a rapid response vehicle was dispatched, even though an ambulance crew on a "disturbable break" was closer.
The ambulance service report said: "There was a failure to recognise the case had gone to a red category... and there was a failure to review the case due to increased demand and staff shortages."
Christina Bunting, a lawyer at Irwin Mitchell, acting on behalf of Gemma and Darren Moore, said there was "inadequate guidance" for call operators in classifying cases where a baby was described as not breathing or breathing abnormally.
She said this had since been rectified.
The ambulance service declined to comment further at this time.
The parents are considering taking legal action.