'Trojan Horse': Ofsted report into Park View school 'finds failings'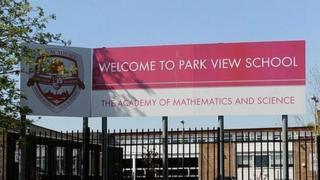 A secondary school at the centre of the Trojan Horse inquiry is to be told it is not doing enough to combat extremism, according to reports.
The Guardian said Park View Academy - rated as outstanding in 2012 - will be downgraded to inadequate by Ofsted.
But the former leader of Respect and a former Birmingham city councillor, Salma Yaqoob, said the inspections were not impartial.
The findings by the watchdog are due to be published on Monday.
Ofsted began inspections after claims hardline Muslims were trying to take over Birmingham schools.
The action was ordered by Education Secretary Michael Gove following the emergence of the Trojan Horse letter - which is widely believed to be a hoax.
The document alleged there was an established regime among a group of conservative Islamists to usurp school governing bodies.
While Ofsted's inspection of Park View is not thought to have found any evidence of extremist behaviour, the report concludes:
The academy did not do enough to alert students to the risks of extremism.
Speakers invited to the school were not vetted and pupils not taught about the safe use of the internet.
Staff are scared of speaking out and some feel governors get inappropriately involved in the running of the school.
Pupils are not given adequate preparation for living in a multi-cultural society.
Education about sex and relationships is ineffective.
The school's managing trust has issued a statement rejecting the findings, saying inspectors have misrepresented the facts, adding there was "no suggestion" in the report of extremism being present in classrooms.
Park View Educational Trust said: "Ofsted judges that Park View is not doing enough to raise students' awareness of the 'risks of extremism'. We reject this.
"It is also crucial to note that the Ofsted reports make absolutely no suggestion, nor did they find any evidence, that trust schools either promote or tolerate extremism or radicalisation."
'Open working environment'
The trust added it had been working with the government's Prevent anti-extremism programme since at least 2012.
It said there was "an open working environment" but accepted improvements in areas like staff pay, recruitment and progression could be made.
However, it said "a disillusioned workforce would soon result in (academic) standards slipping" and this had not been the case, with three-quarters of GCSE pupils earning grades A* - C, including maths and English, last year.
Mr Gove is facing renewed pressure from his Labour shadow, Tristram Hunt, over the government's handling of the threat of extremism in schools.
Mr Hunt told BBC Radio 4's Today programme: "How you can go from outstanding to inadequate? And that's because the inspection criteria is not fit for purpose.
"We want a much broader criteria to make sure these problems don't arise."
'The kids are damned'
Ms Yaqoob, who described herself as "a Birmingham mum", alleged that Ofsted's findings were "prejudged" and she had yet to see "a shred of evidence" that pupils were being radicalised.
"The kids of Birmingham are already damned as being extremist," she added.
"One of the [Ofsted] inspectors asked a girl who was sitting next to a Muslim boy whether she felt intimidated.
"The assumption being that a Year 11 Muslim boy is, by virtue of being a Muslim boy, intimidating."
Five of the Birmingham schools that underwent Department for Education's special inspections are expected to be put into special measures.
Reports leaked on Thursday found two of those schools had been rated as inadequate.
Golden Hillock School in Sparkhill, part of Park View's academy chain, was found to be "not doing enough to mitigate against cultural isolation" and this "could leave students vulnerable to the risk of marginalisation from wider British society and the associated risks which could include radicalisation".
Saltley School in Bordesley Green was criticised by inspectors for inadequate governance - with governors accused of failing to recognise a "state of crisis".
Earlier this month, three other schools published their Ofsted findings.
Ninestiles School, Small Heath School and Washwood Heath Academy were found to be either "outstanding" or "good".