The Public: Redundancy costs for staff £340,601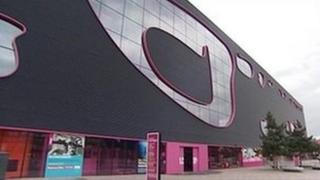 Redundancy costs for workers at The Public art gallery amounted to £340,601 to the taxpayer, the BBC has learnt.
A total of 57 staff received payouts when a deal was agreed for the former £72m West Bromwich gallery to become a sixth form college.
The cost was met from part of the remainder of the gallery's budget after closure.
Most of those funds came from the £1.5m annual fee it received from Sandwell Council.
A petition with more than 5,000 signatures had opposed the closure, on 16 November last year.
'Always regrettable'
The cost of the redundancies was revealed under the Freedom of Information Act, but the council said it could not release the range of payments to each worker as that was personal information.
Sandwell Council signed a 25-year contract for Sandwell College to use the building, designed by Will Alsop, as a sixth form centre.
The council said it could not afford to continue to subsidise the gallery £1.5m a year when it needed to save £120m by 2016 due to government cuts.
Council leader Councillor Darren Cooper said: "It's always regrettable when people lose their jobs but I stand very firmly behind the decision to close The Public in the interests of wider council services."
The redundancy costs are part of the winding-up of Sandwell Arts Trust, which ran the gallery, and Sandwell Arts Enterprises, its trading arm.
That process will conclude later this year, and is expected to be covered by the last of the gallery's budget.
The college will pay the council £11.5m over 25 years - £460,000 rent a year including VAT.
That includes the repayment to the council of the estimated £5.9m costs of remodelling the former New Street gallery - which it had agreed to loan the college.
The council says the agreement saves the taxpayer £37m over 25 years as the annual subsidy would stop.
The centre will reopen as Central Sixth in September.