Sutton Coldfield's royal status is reaffirmed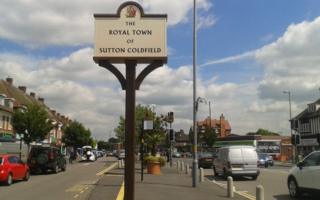 The West Midlands town of Sutton Coldfield has had its royal status reaffirmed by the government.
There had been a two-year campaign to reinstate its Royal title after people believed that it had been lost when the town became a borough in 1886.
After the town's Conservative MP, Andrew Mitchell, raised the issue in Parliament the government confirmed the Royal status had never been rescinded.
Sutton Coldfield was made a royal town by Henry VIII in 1528.
Minister for Cities, Greg Clark, told the Commons: "I am pleased to be able to confirm that there is no statutory prohibition for the use of this historic title."
Nick Corbett, a town planner, who was part of the campaign started by the Sutton Coldfield Observer newspaper, said it was widely believed the Royal town prefix was lost in 1886.
"Civil servants at the time were very mean-spirited," he said.
"They said an application should have been made if people wanted the Royal prefix to continue - and it never was.
"I am pleased the government has got to the bottom of this matter - it's a really momentous and historic day."
MP Mr Mitchell said the town was proud of its royal "heritage and history".
He said: "Within the town, there is a society, an organisation, a charity for almost every enthusiasm and activity one can imagine and many of them proudly sport the royal connection."
Chairman of the Sutton Coldfield Civic Society, Elizabeth Allison, said: "I'm delighted this decision has been reached, this process has been going on for a long time.
"The people of Sutton overwhelmingly feel proud and delighted and it will bring an increase in civic pride to the town."