Plans to link Birmingham city train stations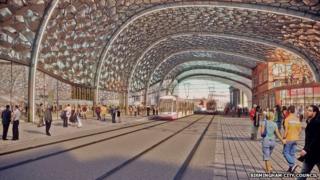 A £5.5m plan to link the proposed HS2 rail hub in Birmingham with two other city centre stations has been revealed.
The city council said the annual number of passengers walking between the New Street and Moor Street stations could rise from 1.4m to 2.3m when HS2 is complete.
The One Station scheme would improve the walkway between them and possibly expand the plaza around New Street.
The council's cabinet will meet to discuss the proposal on 30 June.
The councillor responsible for development and transport, Tahir Ali, said: "There is a real need to enhance this area and provide improved connections not only between these stations but to other destinations in the city centre."
A cycle hub would also be considered and work could start in spring 2015.
Cabinet members will be asked to approve borrowing £376,000 to pay for more detailed plans.