Trojan Horse: Reports have 'broken down trust' in Birmingham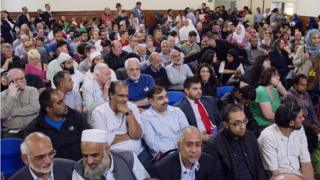 Hundreds of people have attended a meeting to discuss the fallout from the Trojan Horse inspections of Birmingham schools.
The Bordesley Centre in Camp Hill heard concerns about inspection reports linked to an anonymous letter alleging an Islamic takeover plot of schools.
A number of speakers told the crowd they believed the reports were biased.
Ofsted chief Sir Michael Wilshaw has previously agreed to meet parents and children from the affected schools.