CPS fraud couple ordered to pay back £300,000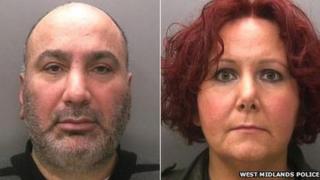 A couple who were jailed for conning the Crown Prosecution Service (CPS) out of more than £1m have been ordered to pay back in excess of £300,000 by a court.
Former CPS finance manager Lisa Burrows, 41, from Oldbury, West Midlands, had previously admitted producing a series of fake taxi invoices and must repay £73,213.
Her partner, taxi-driver Tahir Mahmood, 50, from Hodge Hill, Birmingham, was told to pay £233,991.
They were given six months to pay.
Burrows and Mahmood were each sentenced to six years in prison in August.
At a confiscation hearing, Birmingham Crown Court ruled that Burrows must serve an extra 18 months if she fails to reimburse the public purse in time.
Mahmood was told he faces an extra two years in jail if he cannot pay within the six months.
The pair were arrested in February 2013 and admitted inventing a fake taxi firm, B&M Taxis, which stood for Burrows and Mahmood.
Birmingham Crown Court was told they operated as a team to defraud the CPS of £4,000 a week over five years by lodging claims for non-existent taxi journeys.
The couple, who met on an internet chat room, used the proceeds of the fraud to fund holidays to Dubai and New York, as well as splashing out on designer clothing, accessories and jewellery, the court heard.
Mahmood told police he had also used £20,000 as a deposit to buy a house and once spent £10,000 during a week on holiday.