Birmingham bus lane fines: £14k to be refunded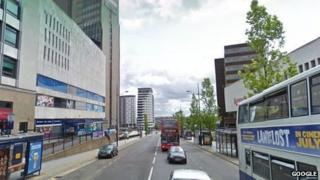 Just 233 fines are to be refunded to motorists caught driving in bus lanes in Birmingham despite thousands caught in areas where signs were "inadequate".
Bus lane cameras were put up at 10 locations in September and by February were responsible for more than 100,000 fines being issued.
A tribunal ruled that signs at three sites, responsible for about 65,000 fines, were not clear enough.
A new report by Birmingham City Council said 233 fines were being refunded.
That represents less than £14,000 out of £1.7m collected in fines.
Councillor Tahir Ali, responsible for transport, told a city council scrutiny meeting on Friday that those drivers had previously appealed fines, citing unclear signage or that they were unaware of driving in bus lanes at one of the three sites.
He said a further 18,000 unpaid, disputed fines would not been enforced.
Mr Ali said the council would not be allowing retrospective appeals by drivers who had already paid fines as it would set a precedent and allow some to "jump on the band wagon".
Councillor Tim Huxtable, a member of the economy and transport overview and scrutiny committee, however, suggested the authority had a "moral obligation" to refund all 65,000 fines at the three sites.
In February, independent adjudicator Stephen Knapp said he found signage was inadequate or confusing at The Priory Queensway from Colmore Circus towards Old Square, St Martin's Queensway and Moor Street Queensway.
Responding to appeals by two drivers, he said: "I am satisfied that the inadequacy of the signing means the penalties issued... should not be enforced."