'Terracotta army' sought for Moseley Road baths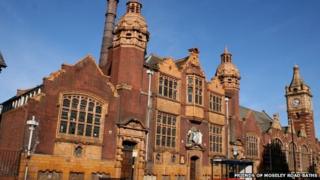 A "terracotta army" of swimmers is being sought for an arts project at a historic pool before it closes.
The Grade II* listed Moseley Road Baths in Birmingham is one of the oldest swimming baths in Britain.
The main pool closed a decade ago due to safety concerns and a second, smaller pool is due to shut next year as part of council budget cuts.
Photographer Attilio Fiumarella hopes to recreate part of China's Terracotta Army at the pool on Saturday.
He is looking for 100 swimmers to take part in the photo shoot, intended to be a "form of protest against its closure".
It will also form part of the last image of a project by the Birmingham-based photographer, capturing not only the historic building, but its relationship with the local community.
The building, which dates back to 1907, is currently on the English Heritage At Risk register.
It is one of nine leisure centres or pools listed for closure by Birmingham City Council next year as part of £6.8m savings to its leisure budget.
Campaign group Friends of Moseley Road Baths have described it as "well loved and of "huge historical and architectural significance".