Birmingham 'Trojan' school staff 'want changes'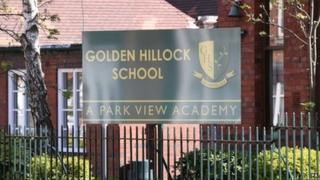 Staff at one of the Birmingham schools at the centre of the "Trojan Horse" investigations want changes to the way it is run, a survey has shown.
Golden Hillock School was put in special measures last month after criticisms over leadership.
It was one of 21 schools inspected by Ofsted over an alleged plot by some Muslims to take over schools.
In a previous survey in February, most staff said the school was well run and they were proud to work there.
The new survey was conducted by union representatives at the school, after the publication of the critical Ofsted report.
In it 81.4% (57 in total) of staff responding said it was time to sever ties with the Park View Educational Trust, which currently runs Golden Hillock.
The survey also revealed 83.4% (60) thought the governing body did not represent the views of staff and 65.3% (47) said they felt unable to raise concerns about religion at the school.
Ofsted inspectors had criticised religious teaching at the school, which they said focused almost exclusively on Islam.
Mohammed Ashraf, a governor at the school, said: "Staff have a governor (on the board of governors) and any concerns should be relayed through them."
A National Association of Schoolmasters Union of Women Teachers (NASUWT) spokesman said: "Sight has been lost of the fact that in the middle of all of this are teachers and support staff who are desperately trying to focus on teaching."
Unlike February's staff survey, which was organised by the NASUWT, the new survey was carried out by union reps on their own initiative.
Seventy two people responded to the latest survey. The school, which has 870 students, refused to say how many staff it employed.