Trojan Horse: Former Park View Educational Trust chairman 'not sinister'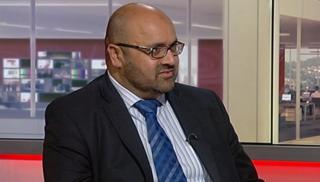 The man at the centre of the alleged Trojan Horse school takeover plot in Birmingham has said he has been unfairly painted as a sinister person.
Tahir Alam resigned as Park View Educational Trust chairman on Tuesday.
The trust has been in the spotlight since allegations emerged about hardline Muslims trying to extend their influence in schools.
Mr Alam said he intended to continue his career in education and make a difference to the lives of children.
Speaking about the impact of the allegations, he said: "It has been quite shocking; difficult for me, difficult for my family.
"My reputation has been damaged. I've been painted as a sinister character when, in fact, I work very openly in education.
"What I have done is very transparent and open."