Solihull bungalow damaged in fire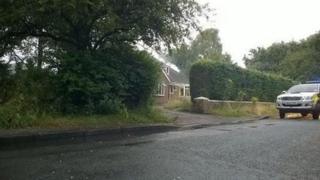 A bungalow in Solihull has been almost completely destroyed by a fire in the early hours.
It happened in Tithe Barn lane at 04:48 BST and at its height at least five crews were involved.
Some eye witnesses said the bungalow had been hit by a lightning strike, but West Midlands Fire Service said its officers were still investigating what caused the fire.
Nobody was injured. Two fire crews remain at the scene.