'Trojan Horse' report by council 'ought to be reviewed'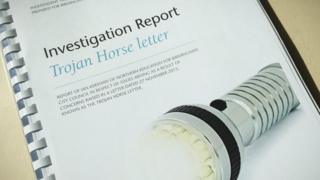 The council-commissioned review of the "Trojan Horse" allegations "ought to be reviewed itself", teachers have said.
Members of the National Association of Head Teachers (NAHT) said Peter Clarke's Government-commissioned report into allegations of a hardline Muslim take-over of schools was more thorough.
The two reports differed in their conclusions, although neither found evidence of extremism in the schools.
Birmingham City Council would not comment on the inquiry process.
It said: "This was an independent review. The terms of reference are published in Ian Kershaw's report."
Islamic principles
Peter Clarke's report said there had been a coordinated attempt to introduce an "aggressive Islamist agenda" into some Birmingham schools and criticised the city council for not acting sooner.
Ian Kershaw's investigation for the city council found "no evidence of a conspiracy" and said individuals had encouraged certain Islamic principles in an attempt to "raise standards".
Rob Kelsall, from the NAHT, sat on the Kershaw review panel and said witnesses were put off giving evidence to that inquiry because they were asked for their names.
"It was a massive barrier. I know of one witness, a head teacher, who made a phone call to the inquiry hotline," he said.
"She was told she was not able to give a statement unless she gave her name, address and the school's details.
"I know she gave evidence to the Clarke inquiry but not the Kershaw inquiry."
He claimed the witness who volunteered details of a social media group called the Park View Brotherhood had not given evidence to the Kershaw report "because of issues of trust". Mr Clarke's report said that group included "grossly intolerant" messages.
'More thorough'
Sarah Hewitt-Clarkson, head teacher of Anderton Park Primary School in Sparkhill, said the inquiries were carried out differently.
She said she had an interview with a law firm which worked on the Kershaw review, and the firm said "tell us what you know with a blank piece of paper".
"With Clarke, the interviewer already had an incredible amount of information about me and my school going back years and asked specific, probing questions. It was more thorough," she said.
Mr Kelsall said: "In light of the Peter Clarke inquiry's outcome and recommendations, the council ought to review the Kershaw review to ensure any evidence identified by Clarke has been recognised."
| Peter Clarke's key findings | Ian Kershaw's key findings |
| --- | --- |
| "There has been a co-ordinated, deliberate and sustained action carried out by a number of associated individuals to introduce an intolerant and aggressive Islamist ethos into a few schools in Birmingham." | "No evidence of a conspiracy to promote an anti-British agenda, violent extremism or radicalisation in schools" |
| "I found clear evidence there are a number of people associated with each other and in positions of influence in schools and governing bodies who espouse, sympathise with or fail to challenge extremist views." | "There are a number of key individuals who are encouraging and promoting certain Islamic principles in schools in the Birmingham area, and we have noted a pattern of these individuals moving between schools in the area." |
| "Whether the motivation reflects a political agenda, a deeply held religious conviction, personal gain or achieving influence within the communities, the effect has been to limit the life chances of the young people in their care and to render them vulnerable to more pernicious influences in the future." | "It appears that there is a genuine and understandable desire among these groups to improve the education and opportunities for Muslim pupils. The desire is often coupled with a belief that these children can only be served by Muslim leaders and teachers." |
| "There is incontrovertible evidence that both senior officials and elected members of Birmingham council were aware of activities that bear a striking resemblance to those described in the Trojan horse letter many months before it surfaced." | "Birmingham City Council's inability to address these problems has been exacerbated by a culture within [the council] of not wanting to address difficult issues... where there is a risk it may be accused of being racist or Islamophobic." |