Oldbury to change name to Goldbury for medal winner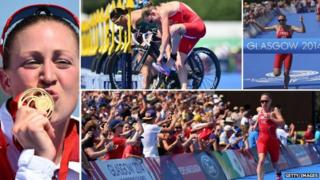 Oldbury is to be renamed Goldbury in honour of Commonwealth Games gold medal winner Jodie Stimpson.
Signs will be put up around her hometown in the West Midlands as part of the unofficial renaming.
A civic reception is also planned for triathlete Stimpson, who won the first gold medal of the games in Glasgow.
Darren Cooper, the leader of Sandwell Council, said: "We want to do our bit to make sure her fantastic achievement is recognised."
He said no date had been set for the civic reception or the erection of the signs, but it would be after Stimpson returned from the games.
Stimpson joined Oldbury Swimming and Triathlon Club at a young age and trained at Langley Swimming Centre.
As a young elite athlete, she was part of Sandwell's Triple S Gifted and Talented Programme.
She also carried the Olympic Torch ahead of the London 2012 games.