Birmingham teenager loaned £1m Stradivarius violin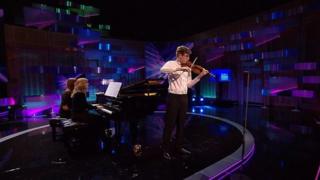 A teenage boy has been loaned a rare £1m Stradivarius violin by a musician touched by similarities in their lives.
Roberto Ruisi, 18, will use the instrument in a series of high-profile performances, including the BBC Proms.
Its owner John Ludlow was drawn to Ruisi as they both come from Edgbaston in Birmingham and attended the same King Edwards School.
At the age of 14 Roberto became the youngest ever leader of the National Youth Orchestra of Great Britain.
In 1948 Ludlow, a professional musician, became the first leader of the orchestra.
'Gesture of faith'
His valuable violin, dating from the 1680s, will be played at the orchestra's performances at Sage Gateshead on Thursday, Birmingham's Symphony Hall on Saturday and the Proms on Sunday at the Royal Albert Hall.
Roberto said: "It's been amazing to play on such a remarkable instrument.
"To me, the Strad is not just a violin, but is an extension of myself, allowing me to communicate all my musical ideas".
Reflecting on the parallels between them, Ludlow - who bought the instrument in 1965 - said: "Robbie already plays the fiddle far better than I ever did, and has a really fine future ahead of him.
"What do you do when you find yourself outclassed? In this case applaud it with enthusiasm.
"It is a gesture of faith in Robbie's future."