New Haden Cross fire station opens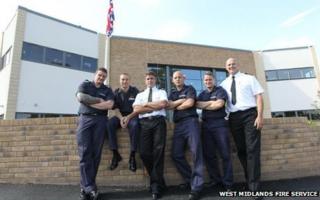 A new £3m fire station which replaces two others has opened in the West Midlands.
The Haden Cross building on Barrs Road replaces Cradley Heath fire station, which closed on Monday after 72 years of service.
Halesowen fire station had shut in April 2012.
West Midlands Fire Service said it was always reviewing the condition of its estate, but had no plans to close any more stations.
Two other stations have shut in recent years.
The central fire station at Lancaster Circus, Birmingham, closed in 2006. One fire engine was moved to Aston and another went to Hay Mills, while a new headquarters was established at Vauxhall Road, Nechells. Sedgley shut as a retained fire station in 2008.
The Haden Cross station opened on Monday afternoon, after about 100 fire service staff and retired firefighters took part in a procession from the old building on Mace Street to the new one.
The fire station includes a community room for groups of up to 30 people.