Polls close in West Midlands by-election for a new PCC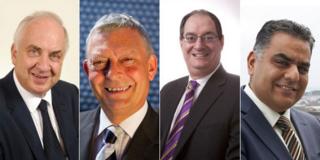 Polls have closed in the by-election for the West Midlands police and crime commissioner, to appoint a successor to Bob Jones, who died in July.
The candidates are David Jamieson (Labour); Les Jones (Conservative); Keith Rowe (Ukip); and Ayoub Khan (Liberal Democrat).
The result is expected at about 16:30 BST on Friday.
Mr Jones, who died aged 59, was the first PCC for the region, winning the position in November 2012.
The West Midlands force is the second largest in the UK after London's Metropolitan Police, covering a total of 348 sq miles and serving nearly 2.8 million people.
Officers cover the cities of Birmingham, Coventry and Wolverhampton, along with the districts of Sandwell, Walsall, Solihull and Dudley.
The force is made up of more than 7,800 police officers, supported by 3,400 police staff, more than 540 special constables and about 715 police community support officers.
The West Midlands turnout in 2012 was the second lowest in England and Wales, with just 12% of the two million people eligible to vote doing so.
Mr Jones's (Labour) term of office was due to finish in May 2016.