Sam Greatrex: Halesowen man's round-the-world record bid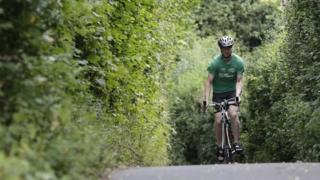 A former cancer sufferer has set off on a world record attempt to travel around the world using only human power.
Sam Greatrex, 29, from Halesowen, West Midlands, plans to row and cycle 32,000 miles, taking an estimated 18 months.
He said the route, which had taken three years to plan, would see him cross two oceans and 26 countries.
He hopes to raise £240,000 and break the current record, which stands at five years and 11 days.
"I was diagnosed with cancer when I was 10," he said.
"Fairly early on I was assigned a Macmillan nurse. She was not just a clinical expert, but also a great laugh and a great support.
"I was lucky and went into remission six months after diagnosis, but I continued to see her for 18 years because of treatment.
"So it only seemed right to do something that did justice to the level of support I received."
He said the fundraising target had been chosen as it would pay for a new chemotherapy unit at a hospital.
Greatest challenge
Mr Greatrex said the challenge he was taking on had only been completed by two people.
"I'm not an endurance sportsman my any stretch of the imagination," he said.
"My best credential is fourth in the primary school beanbag race."
Mr Greatrex has clocked up thousands of miles in training both on a bike and a rowing machine.
"None of it would equate to rowing 12 hours a day for 72 days consecutively," he said.
A £30,000, specially-built boat will be used to cross the Pacific and Atlantic oceans.
Eight months of the journey are expected to be spent at sea, with three or four friends joining him at the oars.
He will cycle the remaining 18,000 miles on his own, crossing some of the most inhospitable terrain, including mountains and deserts.